Design-Build Retaining Walls
Functionality can have Form, too
Poured in place concrete has dominated the construction industry, practically since its invention, for large projects. The Romans used it to build their aqueducts, tunnels, and culverts. It was 1905 when John Alexander Brodie, from Liverpool, England, was credited with pioneering precast concrete paneling. Among the more elderly buildings, even tall ones, you'll see brickwork, such as parts of the Empire State Building.
The last significantly tall building constructed primarily of brick was the Chrysler Building, built May 27, 1930. It remains the tallest brick building in the world (it has a steel frame) but is now only the 6th tallest in New York, NY, and 11th tallest in the country. Steel frame construction, with panels (concrete, glass, metal, or any number of esoteric materials), has taken over.
Poured concrete is now generally used for foundations (whether for homes or major structures), roads, curbs, retaining walls, bridges, and swimming pools! Forms render strong, ridged concrete structures, which not only compete with natural stone, but with modern additives, surpass it for strength, and flexibility.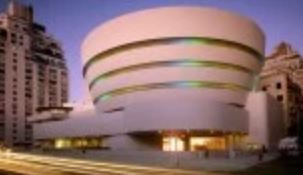 Seven hundred tons of structural steel and ten times that amount of concrete were required to form the structure and shell of the Guggenheim Museum in New York, NY. It took the combined skills of many subcontractors, working together, to create the unique plywood forms that created the iconic shape of the building.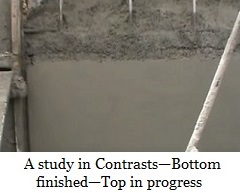 If your building isn't all "straight lines and sharp edges" it can be completed faster, stronger, more safely, and less expensively with Shotcrete. More importantly, it can acquire an enjoyable aesthetic that is somehow missing from your average Federal Prison style of architecture…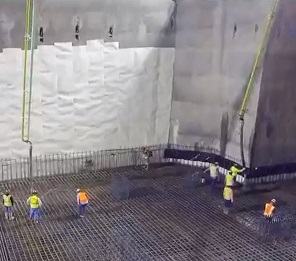 Strong Foundation—Strong Building
If you need a 70-foot deep excavation for your underground parking facilities and building infrastructure, that is not a problem. What is a problem is making sure the job site is safe before, during, and after construction. We've discussed it before, but it is worth repeating that we are completely familiar with the JHA (Job Hazard Analysis) regulations for all of Texas. One of the most important parts of that is making sure the sides of that big, beautiful "hole" aren't going to collapse inwards.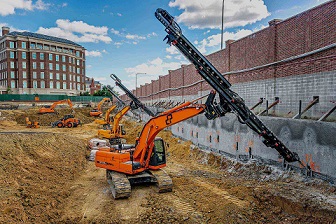 This requires Earth Retention solutions. Oscar Orduno, Inc. utilizes a wide range of geotechnical techniques to create new retaining walls, enhance existing structures, or apply remediation to any retaining walls currently experiencing failure. That means stabilizing the soil and rock as part of an excavation process.
Depending on the individual site needs, these solutions can be temporary or permanent. We will almost certainly use a selection of piles, soldier piles, soil or rock nails, internal supports, geogrids, other ground anchors and, of course, reinforced concrete. The system can be designed to replace the pressure previously supplied by the (removed) soil, or it may just be designed to resist pressures of the Earth surrounding the site.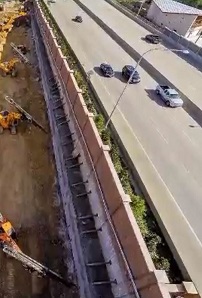 Why You Need Us
You could not excavate next to a highway without making sure the land beneath it wouldn't ooze out like someone stepping on a tube of toothpaste. People could be killed or injured; it would cost millions to rebuild the roadway; and, the traffic problems could cost businesses and the city a fortune.
Our work from major portions of the IH 635 Managed Lanes Project in Dallas gave us a level of experience matched by very few. We understand the geology of Texas, which is why we're so frequently entrusted with these vital infrastructure projects for the state.

Shotcrete Application
When it comes to Shotcrete application, we are known as the best. We have the top nozzle men (ACI certified) in the industry for this meticulous work. Shotcrete is a tested, proven, cost-effective, time-saving alternative to cast-in-place concrete. We also have the support of a fleet of innovative and specialized shotcrete equipment, to go with our experienced people. Together, they know how to perform faultless shotcrete applications successfully.
Our Goal: Exceed Expectations
We work for you. As your retaining wall contractor, it is our goal to exceed your expectations in every aspect of the job. We're innovative, making sure every minute counts because we all know "Time is money." We do what it takes to complete a task on schedule.
The most significant convenience arises from the fact that Orduno Design Services is a sister company to Oscar Orduno, Inc. (OOINC) and provides almost all of the engineering, design, and technical services performed as a part of the design/build contracts undertaken by OOINC.
The Takeaway
Oscar Orduno, Inc. is your go-to expert for retaining walls, underpinnings, earth retention systems, and specialty foundations, or shotcrete applications. We always try to exceed industry standards to achieve the highest quality results on all of our projects. We bring engagement, passion, and preparation to every job.
When you need Wall Remediation & Failure Repair in Texas, OOI is your go-to source for the engineering expertise you should demand.
We will always minimize unnecessary disruption to your neighbors, other tradespeople, and people in the vicinity. We promise to keep everyone safe during the construction process and to operate in a manner to ensure the utmost protection to your structures and property. We pay attention to all the details, so when the job is done you can be confident that it was done right!
We cover most of the state, including Dallas, Fort Worth, Austin, San Antonio, Houston, Lubbock, Amarillo, Tyler, and Waco. You'll see our bright orange equipment in almost all of those places, and much more besides! We'd love to hear you say "Howdy," so take a moment and get in touch.
4600 Fuller Drive, Suite 375,
Irving, TX 75038
972-717-3070
For that occasion when you don't want the earth to move!