A Foundation of Trust
Every builder and developer in Texas has heard of Oscar Orduno, Inc., even if we haven't actively worked on-site with them all because so many rely on us for consultation.  We have a deep understanding of the morphology of soil and rock structures in Texas that is unsurpassed. When companies want to know, they ask us – consulting the experts.
As is also typical, everyone wants to build higher and higher, but that can't happen without a rock-solid foundation (literally!).  They all know you can't just dig a hole without reinforcement and retention considerations…  Well…except for that one fellow you may recall reading about that started a winter project (a few years ago) assuming the frozen soil would last until he was done.  Unfortunately, there was an early thaw and, though no one was hurt, it was an expensive fix when it collapsed…
The fact of the matter is that our knowledge is an incredible asset to owners, engineers, and builders.  It is vital to understand what conditions you are going to face before the first shovel goes in the ground.
Take a look at our online portfolio for some examples of the variety of projects we have tackled. Read more about our CEO Oscar Orduno here.
Expertise Protects Lives – Consulting The Experts
Most importantly our expertise protects the lives of workers, neighbors, and employees; but it also protects existing structures and properties for both yourself and your neighbors.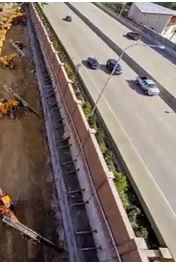 Excavating beside a roadway like this would be impossible without proper support.  These vehicles, however, are perfectly safe since that is our OO equipment down below!
No one wants to contemplate the millions of dollars in reparations if a significant piece of municipal infrastructure like this was compromised, or even destroyed.  Even worse, what about the lost lives if it was rush hour when it failed…
Our consultants provide vital insights into the risks of a specific site, assessing your solutions, as well as giving alternative strategies and design considerations.  This advice is going to keep your site safe, save money, and more importantly time, by getting it right the first time.
Why put yourself in the position of having to fix a situation that could have been avoided with better planning?  Remember, Oscar Orduno, Inc., and our affiliate, Orduno Design Services LLC, have decades of experience.  We understand the ins and outs of all of the support systems available; we know which is most practical, useful and/or economical in a particular situation.
Once we see your plans we can provide the perfect answer that integrates with your goals, minimizing Request for Information (RFI) delays, and worst of all, the costly Request for Design Change (RDC) during construction.
The Takeaway – Consulting The Experts
We can remediate any unstable or failed excavation with structural reinforcement even before the soil is removed, but in all honesty, we would much rather you didn't have the problem in the first place.  After all, there are so many ways to do a job incorrectly—let's avoid that and do it properly, right from the start!  Whether it's planning support or tangible physical support that your project requires, your best choice is always the bright orange of Oscar Orduno, Inc. 
We are the experts you need!
We cover most of the state, including Dallas, Fort Worth, Austin, San Antonio, Houston, Lubbock, Amarillo, Tyler, and Waco.  You'll see our bright orange equipment in all of those places, and many more besides!  We'd love to hear you say "Howdy," so take a moment and get in touch.
We're located at:
Irving, TX 75038
972-717-3070
For that occasion when you don't want the earth to move!