Doing what Other techniques Cannot Do
THE HISTORY OF SHOTCRETE
Carl E. Akeley figured out how to spray dry concrete mix and water from a hose at the beginning of the last century, in 1907. He wanted to repair a crumbling wall and figured out how to do it with the materials and technology available at the time. Shotcrete was born.
About half a century later, someone figured out how to do the same job, but with liquid concrete, and high-pressure air. There were advantages since it could be placed faster, with predetermined additives, and it didn't fill the air with toxic concrete dust. Better yet, it stayed in place and didn't slough off, or get on unintended surfaces.

Of course, the dry process could be stopped at any time, for lengthy periods, with few problems, but using ready-mix concrete had very specific time constraints, and a need for continuous application until a batch was done. Both techniques are still used, with dry often favored for ceiling application because of the fine control possible; and wet for large projects, where a lot of material needed to be placed in a short timeframe.
MODERN EQUIPMENT                  
Mixing on-site is convenient, allowing "right-sized" batches for the job without any extraordinary waste of unneeded partial loads of Ready- Mix. It also eliminates a parade of concrete mixer trucks in a smaller work area.
When you are responsible for a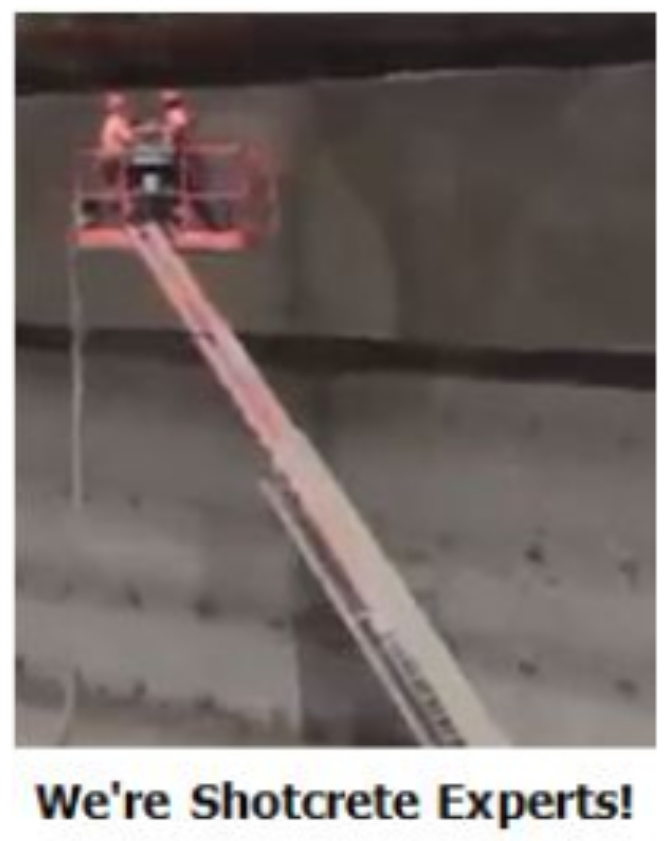 massive job, with multi-story, subterranean retaining walls, where you literally face acres of a vertical surface to treat, there is nothing better than shotcrete to get your project done in record time. It requires the right equipment for the task, and we're well-equipped in that area!
BETTER LIVING THROUGH CHEMISTRY             
The trick, however, is that unlike early types of cement, the "drying time" and the "time to develop strength" have become completely controllable. Roman Cement (developed in the 1780s) had nothing to do with Rome but did predate Portland Cement by 80 years. Roman Cement would set hard in 5 to 15 minutes. Modern types of cement have a variable set-time, determined according to need, by the mix and additives selected.
   This provides as much time as necessary for a secondary crew to come in and make the surface into the traditional faultless surface we're accustomed to seeing. This image shows the result.
SHAPE OF THINGS TO COME
The greatest difference between shotcrete and cast concrete is that the latter requires rigid forms, usually with 90° angles at every meeting point. Shotcrete, on the other hand, lends itself to smooth curves, oblique angles, slopes, and ridges, so you can confidently create any shape you desire.
It doesn't require forms to contain the liquid concrete, instead of relying on existing geomorphology (such as building a strengthening layer on an eroding hillside), or on a rebar frame designed to hold the shotcrete in place until its basic strength develops. And, of course, the rebar provides extra rigidity and strength once everything sets.
Hillsides, on the other hand, can be contoured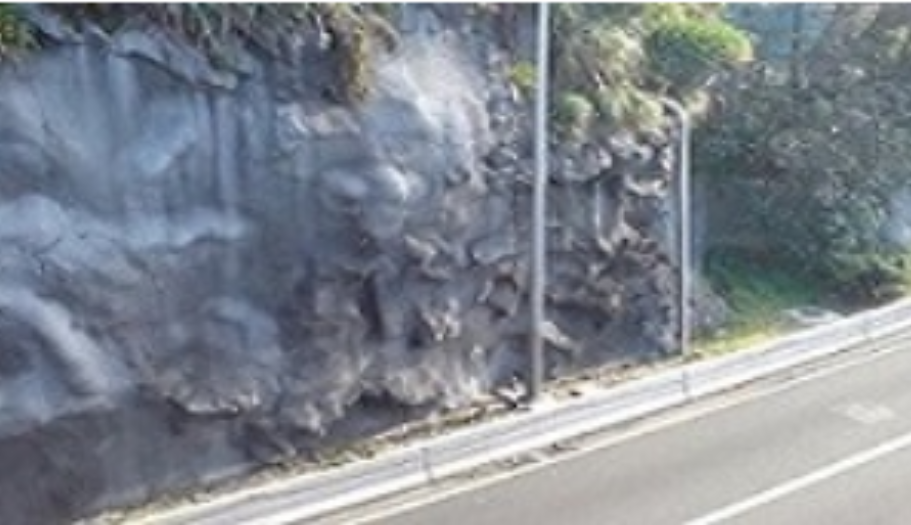 without additional structure if they are otherwise stable. This example of shotcrete reinforcement prevents what was previously a serious case of on-going rock falls onto a high-traffic New Zealand roadway. Now people drive this section of highway with complete confidence and safety.
For unstable hillsides, it is simply a matter of installing one of the modern geomaterials, or a rebar framework, held in place by soil nails driven deep into the solid portion of the hillside. Now you can build up the area as desired.
Curvilinear Construcion
One big customer for curvilinear construction is the public zoo system. Specifically in order to create livable enclosures for their animals. No sharp edges or improbable corners, as designers strive to create more natural habitats.
Shotcrete is used in watercourses, too, to prevent erosion of banks and shorelines. It is used to repair failing infrastructure, such as collapsing storm sewers, where a rebar cage is inserted and a new strong layer of hydraulic concrete is added, adding decades of usability. A major advantage is the smoothness of the finish which helps to prevent snags and blockages for city workers.
It saves cities billions of dollars, too, as miles and miles of roadways do not need to be ripped up; gas, water, and electrical conduits don't have to be redirected.
This image shows the height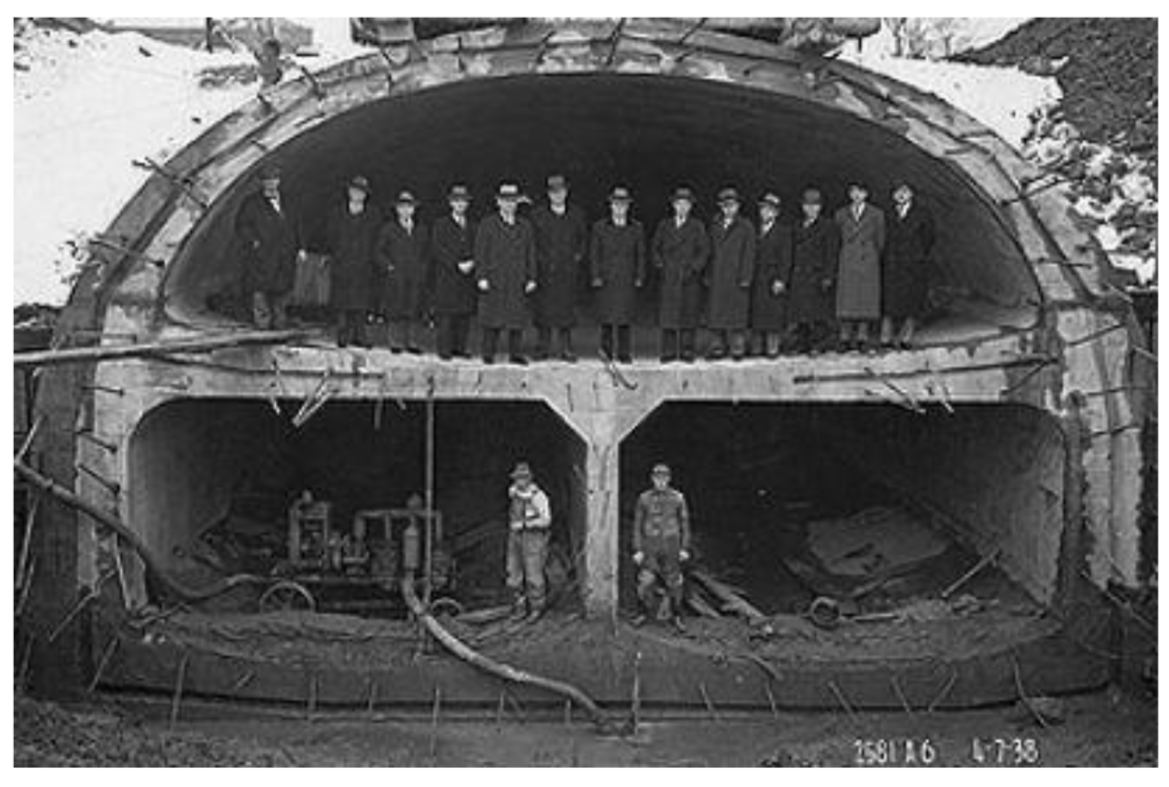 of 1938 freshwater and sewage technology in Queens, N.Y., and repairing something this massive can be done from inside, through regular access points, without any external damage or effects. Which would you choose? Shotcrete, of course!
The Takeaway on Shotcrete
Shotcrete is the most popular method for building in-ground swimming pools because of the ease of installation. It also provides the ability to add insulation qualities so that the energy to heat the pool isn't leached into the surrounding soil so easily.
That being said, its most common use will always be for structures requiring high strength, chemical resistance to environmental factors (such as sulfites). And for creative, non-rectilinear designs.
Count on Us
Whatever types of "support" your project requires, your best choice is always the bright orange of Oscar Orduno, Inc. We are the experts you need!
We cover most of the state, including Dallas, Fort Worth, Austin, San Antonio, Houston, Lubbock, Amarillo, Tyler, and Waco. You'll see our bright orange equipment in all of those places, and many more besides! We'd love to hear you say "Howdy", so take a moment and get in touch.
We're not only considerate of our customers, but all the people that they must interact with including neighbors, tradespeople, and members of the public.
We promise to:
keep everybody as safe as possible.

minimize disruption to your business, that of your neighbors, and to intrude as little as possible upon daily operations.

operate in a manner to ensure the utmost protection to your structures and property.

pay attention to the details.
We cover most of the state, including Dallas, Fort Worth, Austin, San Antonio, Houston, Lubbock, Amarillo, Tyler, and Waco.  You'll see our bright orange equipment in almost all of those places, and many more besides! We'd love to hear you say "Howdy," so take a moment and get in touch.
Find out more about The Team that Powers Success!