The functions of retaining walls are manifold. Their primary purpose is to eliminate unintended soil movement and/or prevent erosion, but can also include recapturing sloped or slumping ground, turning it back into a useful flat surface area, or creating aesthetically pleasing designs to substantially improve property value.
          It can be terraced, to build a stylized and easily visible garden, even if there is no need for erosion control. Something which stands three feet or less in height could be a DIY project. A wall up to six feet tall could be in the realm of a master handyman but, by and large, these are not projects that most home or business owners are equipped to handle.
It's a Complex Process
          The truth is that there are simply too many forces at work for easy understanding. This sort of construction requires a significant mastery and comprehension of the vertical and lateral pressures, along with the mechanical forces that develop in various types of soil, such as clay, silty sand, or sand/gravel combinations.
          Considering that a cubic foot of water weighs 64 pounds, a cubic yard of water starts to approach one ton in weight. Add in the changing forces of hydraulic pressures along streams or after rainfalls, or even fixed hydrostatic pressures, the variables become almost incalculable for the neophyte.
Each substance or soil mixture possesses a unique friction angle where the material will provide a lot of its own support, in the range of 25° to 38°. Beyond that point, they require additional mechanical support of some description.
Types of Retaining Walls

Gravity walls are those created with sufficient bulk to resist those forces and prevent changes. It might include gabions (wire cages filled with rocks), or constructions that are "leaned back" into the load.
If the space is inadequate for a bulky wall, anchoring units are required in order to be able to support (or increase the overall height of) the structure. A short anchor unit (SAU) can replace a bulky wall with a geosynthetic material with no increase in height. A long anchor unit (LAU) allows you to significantly increase that height without adding bulk.
Using a cantilever technique, special load-shifting materials and shapes can transfer loading forces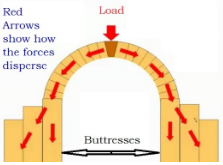 directly into the ground, making them vertical, rather than horizontal. The ancient Romans excelled at altering loading, using arches and buttressing to transfer horizontal loads into vertical ones. To do away with the buttresses the bottoms of the arches can be connected with strong cables. As you can imagine, extraordinary foundations may be required if you plan to put large loads on an upper terrace (such as making a new parking spot for a car).
Sheet-Piling walls are an effective solution for a confined space. Piles, driven well into the ground, can support very thin sheeting, allowing for very deep excavations. They are also particularly effective along shorelines to eliminate erosion and are sufficiently resilient to sustain a lakeside roadway without collapse.
Where People Go Wrong
Common mistakes include planting trees on terraces, stressing the support system as the tree grows and adds weight. In addition, eventually, root systems will begin undermining your structure. Another mistake is using pea-gravel as a drainage material without realizing that its round shape will allow it to shift, and start to come through the wall after only the first or second rainstorm.
Water must always be considered, controlled, and even allowed to penetrate the wall in some cases for proper drainage. To accommodate this, gravel must be ¾ of an inch or larger, with distinct angles so that it locks together. Without understanding these fundamentals the wall could fail within the first year.
The Takeaway on Retaining Walls
As you can well imagine, anything above the "garden level" is certainly not a DIY project. The engineering principles often elude even experienced landscapers—you need experts—the sort you'll find at Oscar Orduno, Inc., and we would be delighted to advise and participate in your next project.
The foundation of your retaining wall is its greatest strength. You need an experienced foundation contractor that understands the physics and engineering of such structures, as well as the importance of perfect drainage to make sure it does not fail.
Trust Oscar Orduno, Inc., the place where the Professionals live!