The four elements, Wind, Fire, Water, and Earth play important roles in our daily lives. Wind needs to be harnessed for power; fire needs to be controlled; about half the population would argue that retaining water is a bad idea; most everyone agrees that earth should be solid and unmoving. This is when you need Earth Retention Experts like us!
In the earth-moving business, it is essential that when we remove some portion of the ground, the remainder stays in place. To that end, we've invented all sorts of materials, equipment, and techniques to assure that this happens reliably.
Call the Earth Retention Experts
Oscar Orduno, Inc.
knows that better than most. That is why you need to call us to make sure your project is safe for the site owners, your own employees, nearby civilians, as well as the surrounding structures.
A lack of understanding could cause catastrophic failure costing lives and/or millions of dollars in damages. This is not the time for amateurs to be taking their " best guess, " because their best guess is just not good enough!
The resulting stabilization and reinforcement not only provide a safe work environment, but lowers your cost, and speeds up the entire operation putting you ahead of schedule—and as we all know, time is money.
The Methods of Earth Retention Experts
Can you imagine driving a 100-foot long pile with an old fashioned steam-powered pile driver? How about building an entire foundation that way for a massive building? The time—the noise—and all the intrinsic flaws in such a system! Luckily that is no longer necessary.
Continuous Flight Auger – CFA
Nowadays we can easily create cast-in-place pilings with our Continuous Flight Auger (CFA) system. When necessary we can reach hundred-foot depths with ease. The auger maintains the borehole during drilling, meaning no sleeve is necessary. As it is withdrawn, grout, concrete  (or whatever material is called for) is pumped through the hollow center of the auger. When the CFA is finally withdrawn at the top, a rebar cage is plunged into the still-liquid casting for added strength, or even an I-beam, depending on need. Quiet, fast, efficient, and strong—who could ask for anything more?
Sheet Piles
A clever technology is
Sheet Pile walls
, which is terrific for shallow work. They can be as simple as a plate of metal with a single crease down the center so they can overlap.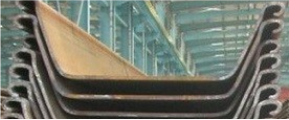 Much more complex designs are available which interlock mechanically if that is called for.  Irrespective of style, they are installed with a vibrating head mounted on a crane that holds them vertically while they are efficiently pushed into the ground. With the simple type in the first image, alternate piles are turned in the opposite direction, and this process continues until the wall is complete. Depending on the length of the pile, and the skill of the crane operator, it only takes about a minute or two to install each one.
Soil and Rock Nails

These can be either temporary or permanent, but their most important function is to stabilize otherwise unstable soils so it is safe to work in, on, and around them. If permanent, the steel or geotechnical mesh is easily penetrated by roots so it can completely vanish beneath vegetation.
Soldier Piles
With the right skills and the right equipment, you can accomplish nearly anything, which is why you want to see the
Oscar Orduno, Inc.
logo on all the equipment on your worksite.
The Takeaway – Earth Retention Experts
Whatever type of "support" your project requires, your best choice is always the bright orange of
Oscar Orduno, Inc
…  We are the earth retention experts you need!
We will always minimize unnecessary disruption to your neighbors, other tradespeople, and people in the vicinity. We promise to keep everyone safe during the construction process and to operate in a manner to ensure the utmost protection to your structures and property. We pay attention to all the details, so when the job is done you can be confident that it was done right!
We cover most of the state, including Dallas, Fort Worth, Austin and San Antonio. Our bright orange equipment is in almost all those places as well as Lubbock and Amarillo too! We'd love to hear you say "Howdy so take a moment and get in touch with us today!"
Read more about Earth Retention Systems: